Testimonials Regina Roofers
Read our customer reviews
Testimonials Regina Roofers
Testimonials from Real Clients
We thank our clients you have provided us with a testimonial. You seldom hear the good news from clients. You only hear from a client when something has gone wrong.
Has RoofCat Roofing performed roofing services for you?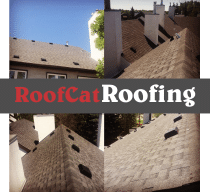 "The team at Roof Cat has done several projects for us and we are very pleased with their service. They are prompt, professional and knowledgeable about all aspects of residential roofing."
"Roof-Cat Roofing has helped our company with standard everyday shingling as well as taken on some fairly complex larger projects. Their flexibility to work through projects with us and their overall customer service is why we will continue to use them."
"Roof-Cat is by far the best roofing company that we have ever worked with. They are dependable, reliable, and most importantly they stand behind their work. Roof-Cat has made the roofing part of our construction build process seamless and their workmanship is second to none."
"Roof-Cat Roofing is simply the type of company that we want to do business with. They are honest, up-front, hardworking, and they do what they say they are going to do. Roofmart looks forward to providing assistance when needed, so that Roof-Cat may continue to succeed in being one of the premier roofing companies in Regina and surrounding area."
Google Reviews of Roofcat Roofing
Actual reviews reviews from our actual customers.
These reviews were extracted from a duplicate Google Review site for Roofcat Roofing
Leave a Review of RoofCat Roofing
Specializing in residential asphalt shingle roofing in Regina & area.
Choose RoofCat Roofing for quality, affordability, assurance and timely service.