Regina Roofing Companies
Roofing Repair & Maintenance
Do I need a New Roof?
Top 9 Signs You Need a New Roof
Most people don't think about the shingles on their home until it is too late.
Like everything else, shingles have a limited life span. Asphalt shingles are designed to last about 20 years. But that is under perfect conditions.
Your shingles take the brunt of all the weather. Sun, wind, rain, ice and snow. But there are also rodents and trees that can shorten the life-span of your roof.
CAUTION, if you are not comfortable with heights, don't own a ladder or just don't want to go on the roof. Contact us, we can perform a roof inspection for you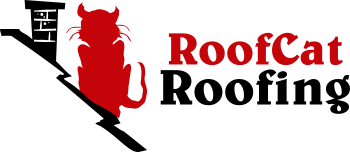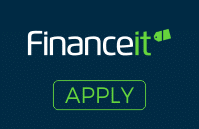 Missing Shingles
This doesn't mean you need a completely new roof, you might just need 1 or 2 shingles replaced. But if shingles are starting to blow off in the wind, then chances are this is the beginning of the end of your roof.
If you see missing shingles, call us and we can quote you to just replace the missing shingles. While we are up there, we can do a visual inspection of the entire roof.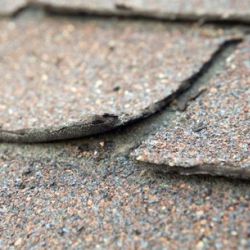 Curled Shingles
Shingles are to lay completely flat. This allows water to flow properly. It also prevents leaves and branches and other debris from collecting on the roof.
Curled shingles will allow moisture to get under and potentially rot away the wood below. Causing further damage and water leaking into your attic and home.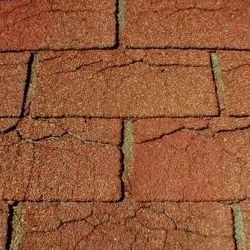 Cracked Shingles 
When shingles are cracked, it is a sure sign that the shingles are no longer doing their job and need to be replaced. These crack let in water and are easier to be lifted by the wind.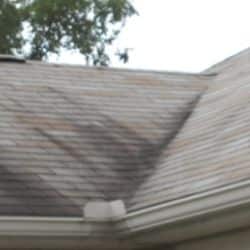 Roof Mold (Black Algae)
If your roof has issues holding water or moisture. Or if there is shade from trees or other objects that doesn't let the sun dry out areas of your roof. You might start to see dark areas on your roof.
This is most likely algae growth on the roof. A combination of moisture, dirt accumulation causing mold to grow and feed on the organic material in the roofing materials.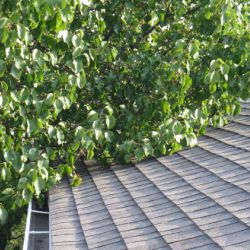 Tree Branch Damage
If you have tree branches that are higher than your home and overhang on to your roof, those branches can start to rub and scrape on the shingles.
When the wind blows, the branches move. Scraping away the protective part of the shingle faster than normal wear. This too will allow water to penetrate the shingles in this area.
If you have tree branches currently overhanging your roof, call a professional (arborist) to trim back the tree to prevent current or future damage.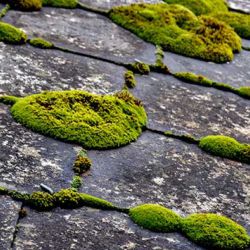 Moss Growing on Roof
Moss is a plant that grows naturally on most any surface. If it is on your roof, it probably landed there as an airborne spore. Moss can also start to grow if your roof is not shedding the moisture it receives.
Moss grows on roof shingles, especially in the spaces between shingles where the spores collect. In wet climates, moss commonly grows into a mat that can be as much as a few inches thick.
Moss growth is usually greatest on north-facing roofs, roof areas shaded by trees and other places that are not exposed to enough sun to dry out.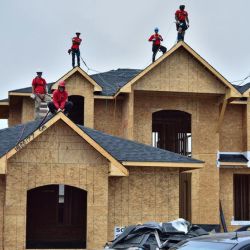 Neighbours Re-Roofing
House in your neighbourhoods are all generally all built at the same time (give or take a couple of years). You may have bought the house and aren't the original owners. 
If you see a lot of homes in your neighbourhood being re-roofed, chances are your house is due to be re-roofed as well.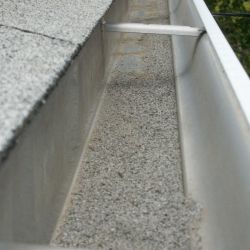 Gutters Have More Granules
Asphalt shingles have a coating of granules on them. If you have ever been on the roof and knelt down with bare knees you will know what granules are. 
If you have a new roof or a recently re-roofed house, there will be granules in your gutters. That is normal, nothing to worry about. These are just extra ones and ones that have come loose with all of the foot traffic up there during the roofing process.
But if your roof is over 10 years old and you see a lot of granules in your eavestrough, that is a sure tell sign your roof has seen better years.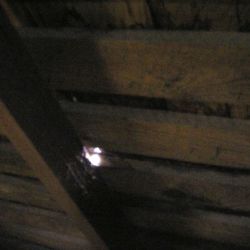 Light in the Attic
If you poke your head in the attic and look-up. If you see light coming through the roof you need a new roof. Probably more than just new shingles. 
Chances are you might need some wood sheathing replaced as well. If sunlight is getting in, imagine how much water is getting in. Not to mention insects and other rodents (squirrels, birds and even raccoons).