Regina Roofing Quotes
Specializing in residential asphalt shingle roofing
Choose Roof-Cat Roofing for quality, affordability, assurance and timely service

New Roof Construction
For new constructed homes, this is the first and last roof you may ever need!
Looking for functionality as well as curb appeal? Look no further.

Re-Roofing Regina Homes
Removal of old or worn out shingles, replaced with modern, high-quality products. 

Maintenance
& Repair
Because the only thing more valuable than your home, is your peace of mind. 
In a dynamic and unpredictable climate, problems arise. To counter, we offer fast-acting inspection, repair and emergency services.

Employment Opportunities
We are often on the lookout for new Roof-Cats to join our pride.
If you are a positive and dedicated individual. Looking for an exciting and challenging opportunity, please contact us.
Residential Roofing Companies Regina
Through excellent service, quality craftsmanship and
dedicated customer service.
RoofCat Roofing have worked our way to the top and our proud to serve as a premiere roofing company in Regina.
Our hard-working and experienced team will do their best to make sure that your roof is in top condition. RoofCat Roofing strives to take excellent care of your property. We take the time to make sure our client
is satisfied
with the results.
Our clients are our highest priority. We only want to provide high quality roof maintenance at competitive prices. All with timely service and professional workmanship.
No roof installation or repair job is too large or too small for us.
We're happy to perform roofing replacement and shingle repair so to keep your property in good shape. We're certified to install our products by our product manufacturer. We are an
IKO Shield Pro Plus
+ Certified Roofing Contractor.
Roof-Cat Roofing strives to offer the best product. And the best roofing services possible at an affordable price. Our goal is to meet and surpass our clients' expectations.
Contact us today
for a detailed list of our services and to book an appointment with us today!
RoofCat provides roofing services in new construction and complete roof replacement or repair.
Let us handle your roofing needs.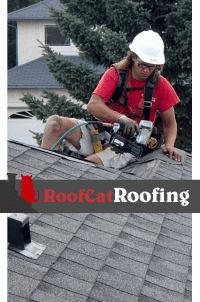 Your home.
Your style.
Your choice.
Can't decide what colour or pattern?
Check out the Roof Viewer tool. Choose from different house styles or even upload a picture of your house.
Download the APP for
your tablet or smartphone.


Regina Roofing Quotes
Helping protect your largest investment
A special thanks to our Regina
roofing industry partners.
We pride ourselves on our quality.
To achieve that you also have to work with suppliers and businesses that have the same values. We work with these quality Regina roofing suppliers.
We also often recommend other Regina based companies to our clients.